Okada, Sukyo Mahikari, and the Japanese military - Part 3
Finally! We have now managed to find a list of all the graduates from the 34th class (1922) of the military academy. It can be found in
Rikugun Shikan Gakko
, by Akimoto Shobo (1970).
Yes, Yoshikazu Okada's name does appear in that list. You may recall I was starting to wonder if Okada was actually in the military at all, since we had not managed to find any war records for him. We still don't have any other records, but at least we now know for sure that he
was
in the military.
The other reason we wanted that list was to double-check that the Sukyo Mahikari Tomomori was the war criminal Tomomori. If you read Part 2 of this series of posts, you'll remember that we cross-referenced between various lists to show that the war criminal Tomomori was from the 34th military academy class, and Mahikari publications tell us the Tomomori who was Okada's friend was in the 34th class. Therefore, logically, if there was only one graduate from that class with the name Tomomori, then the Sukyo Mahikari Tomomori was the war criminal.
The short answer is, yes, we are now 100% sure that the Sukyo Mahikari staff member, Kiyoharu Tomomori, was a war criminal.
Just to complicate matters a little, we know from Japanese Internet sites that Kiyoharu Tomomori's name was originally Kiyoharu Baba. We don't know why he changed his name. One possible reason is simply that he might have taken his wife's name when he married (not uncommon in Japan). In any case, the list of 34th class graduates includes the name Kiyoharu Baba, and there is no-one in that list called Kiyoharu Tomomori. So, the Mahikari Tomomori was definitely the war criminal.
Since we now know the above, we no longer need photographic proof, but we have some photos anyway. The following photo is a group shot showing a man who we
think
looks like Tomomori. The man on the right edge of the photo, next to Keishu, looks quite a lot like photos we have of Tomomori from his war trial, but there is a difference of about 20 years, so it is difficult to be certain.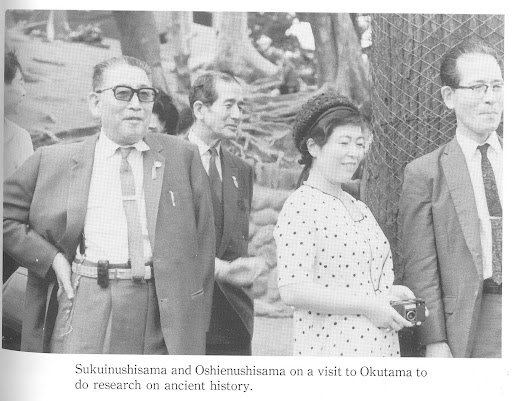 This photo shows Okada on the left, then Sadataka Matsudaira (also from the 34th military academy class), then Keishu, then the man who we think looks like Tomomori. Can anyone help us out with a positive identification of this man? Is it Tomomori, and if not, who is he?
Next we have two photos taken at Tomomori's trial at Yokohama. (In the top photo, he is the one seated on the left.)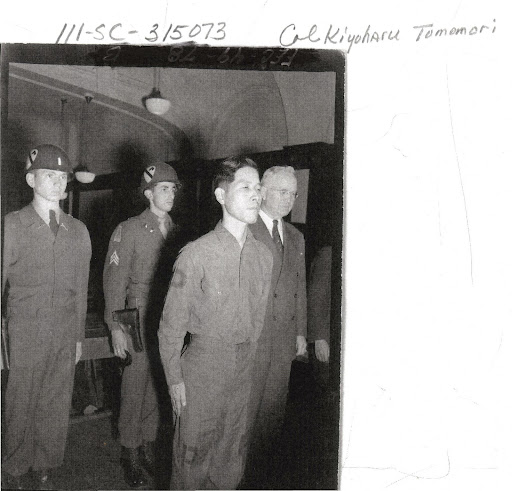 Next we have the slips identifying the above photos.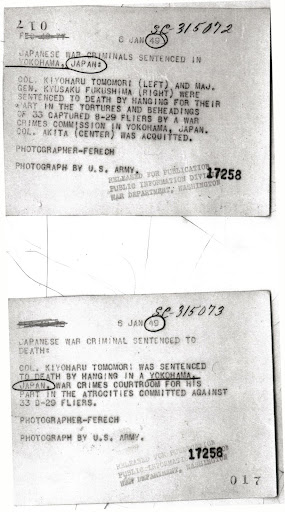 You will notice that the above slips say that Tomomori was sentenced to death, but his sentence was changed to life imprisonment at a retrial, and he was released from Sugamo along with all the other war criminals by 1958 at the latest.
Finally, we have a couple of photos from Tomomori's prison records.